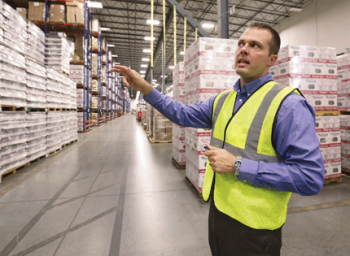 Erik Holck moved through the halls of Port Jersey Logistics' new office and warehouse facility with great familiarity, stopping and greeting all the workers by name.
Holck, the company's business development manager, interacts with a casual attitude.
"That's what it's about — working together," he tells an employee who approaches him, fills him in on a miscommunication and its resolution through teamwork. "We want everyone to have a good day and not be stressed out."
Port Jersey hoped its new location in Cranbury, which marked the first time the company has combined its many moving parts under one roof, would make things easier for its third-party logistics operations.
But it never thought it would work out this well.
"If my boss would let me," one employee told Holck, "I'd stay here all afternoon."
The offer is tempting. After all, one of the reasons Port Jersey decided to bring all parts of its operations together was to make a tough process easier.
The company's work sounds simple: It stores food and food-related items for distributors and retailers that might not otherwise have the capacities, spatial or otherwise, to meet their needs.
Then, when you get into the specifics, the details get overwhelming: special needs for each client or product, inventories that increase 100 percent during only certain seasons, not to mention the other aspects of a functioning company.
Looking at the big picture, it only made sense — logically — to consolidate all those functions under one roof.
"We have HR, IT, accounting, sales and marketing — everything centralized to one location for the first time," Holck said. "We've always had some office space in our building, but it's mostly about the warehouse space.
"This is a first for us."
Once these departments finally got together under one 442,000-square-foot roof, the company learned things might not be running entirely as management had imagined.
"It's made us aware that not everybody fully understands every aspect of the operation; someone in customer service may not understand the warehouse flow," Holck said. "Some customer service reps that really understood their account specifics, but not a general process or the operational involvement that we have; accounting never would have spoken to customer service (because) they never saw them.
"It brought about the fact that, though we have standard operating procedures, every building operated separately in different ways," Holck said. "They followed the same guidelines, but the specifics of those were a little different."
The move, and the attention to the company's efficiency, only make sense for a third-party logistics firm: Streamlining operations to be as efficient as possible is what the company does.
And that's no more evident than in the warehouse space, which has a perimeter a half-mile long, where every decision is the product of a rigorous logic.
Take, for instance, the cold storage for products such as chocolates, which is located on the complete opposite end of the warehouse from the heated room where the olive oil is kept, to prevent it from clouding.
"Retailers will not accept product that does not look sellable, so they came to us and said, 'We're getting all these rejected loads — what can you do for us?'" Holck said. "When this (olive oil) comes in in the wintertime, it comes in here for 96 hours, stays in here and gets cycled out into the warehouse, and the next round of import containers comes on in."
Or, taken more simply, the systematic logic is exhibited in the way deliveries enter one side of the warehouse to be sorted, organized, housed and, ultimately, shipped out of the opposite side of the floor.
That is, of course, ignoring all the finer details about the organization and storing of their goods, which are mostly food-based.
And those details are what make a logistics company successful. If it can't contribute to the process of getting goods from the manufacturer to the retailer by lowering costs, why have a middleman at all?
"Primarily, our customer is either a food manufacturer, importer or a broker, where they may not necessarily take hold of the goods, but they're storing it to then move on to retail distribution," Holck said. "The efficiencies we have in providing this service are much greater than they could ever get in their own operations."
E-mail to: andrews@njbiz.com
On Twitter: @andrewsnjbiz
The biz in brief
Company: Port Jersey Logistics
Headquarters: Cranbury
Founded: 1954
Employees: 162, with 81 in the new facility
One more thing: The company started more than six decades ago in Jersey City as a trucking business serving the supermarkets of New York and New Jersey.
Looking ahead
While the move has already consolidated much of Port Jersey Logistics and its operations, the logistics company is sticking to its roots by continuing to look for more efficient ways to do business.
"We had four buildings that focused on specialty food products that would go to distributors," said Erik Holck, business development manager. "Now they can come to one facility, get everything loaded and get out quicker."
But now the company is working on a way to fast-track that process even more.
"We're working on consolidation models with (our clients) where they can drop a trailer in the yard, we'll preload it, so, instead of the driver waiting in the yard for two hours, all he has to do is come in, tell us what trailer he's here to pick up and leave," he said. "That goes from two hours' worth of wait time to a half-hour process."