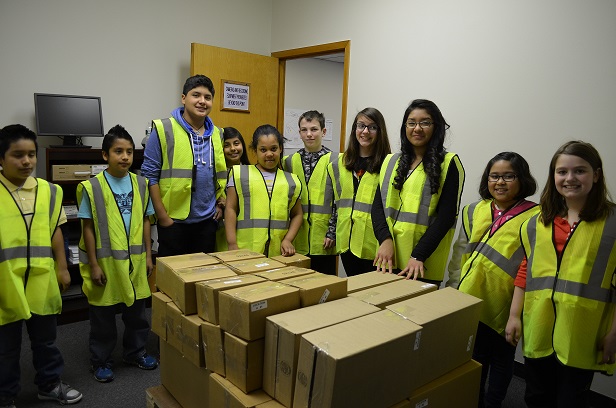 Thursday, April 24th, was Take Our Daughters and Sons to Work Day, a national, public educational program where parents are encouraged to bring their children to their place of employment.  It helps children connect what they learn at school with the actual working world and allows them to see mom or dad "in action."  This extremely popular program was started in 1993 by feminist activist Gloria Steinem and the Ms. Foundation for Women to build young girls' self-esteem and help them envision themselves in a career.  In 2003, the program was expanded to include boys.  It occurs each year on the fourth Thursday of April in the U.S. and Canada.
This year, 13 children, ages 8 to 15, visited Port Jersey Logistics (with their parents, if they were available to attend) to gain real-world knowledge.  Human Resource Manager, Kathy Lanzetta organized a fun-filled day loaded with age-appropriate educational activities, prizes and refreshments.  Various PJL executives led interactive group discussions and engaged the children in thought-provoking projects.
Rob Russo, President & CEO, discussed leadership and handed out PJL gift bags.  Ginny Romeo, Controller & CFO, taught the children about budgeting, wages and taxes.  Afterwards, she gave the group lunch money and the children were tasked with figuring out what they could afford to order and dividing up the change equally.  David Platt, Warehouse Manager, educated the children on the importance of warehouse safety.  He showed them how to properly stack a pallet with varying items and differently-shaped boxes.  The children also learned step-by-step how an order at PJL gets placed, filled and shipped.
Visiting children also had the chance to get creative. Stephanie Jauch, Marketing Manager, described what Marketing is, its importance, and how PJL markets its services.  As part of this session, the children were asked to create a new Port Jersey advertisement.  Larry Rossi, Warehouse Manager, explained what "VAS" stands for and described all the Value Added Services that PJL offers.  The participants were broken down into small groups and each created a shipper display and prepared it for delivery.  Michele Szilagyi, EDI Analyst, discussed the importance of technology and how PJL uses high-tech equipment to improve operational efficiency.  The children played a brief trivia game and prizes were given to those who answered her questions correctly.
In addition to breakfast, lunch and yummy snacks, between sessions the children participated in various crafts and activities, such as "building racks."  The children who built the tallest racks that held something were rewarded with a prize.  Each child also made their parents a special frame filled with photos taken throughout the day.  The kids had a blast, and based on the success of this years' program, Port Jersey plans to do it again next year!