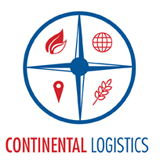 Continental Logistics, the transportation management division of Port Jersey Logistics, launched a new logo and has relocated its office to accommodate Continental's recent growth.  This new logo is the most recent development in re-branding and redevelopment of Continental Logistics.
In the fall of 2015, the strategic redesign of Continental Logistics began with the hiring of Matt Clark as the Director of Logistics, whose focus would be refining the strategic direction of the transportation management division.  Mr. Clark has had an extensive background working for asset based carriers, especially those focusing on LTL (Less-than-truckload) shipments.  "Matt brings a wealth of transportation management experience to our organization. Energetic, driven and solutions oriented best describe Matt, and his ability to work closely with our clients to develop programs tailored to their specific needs is evident," said Rob Russo, President of Port Jersey Logistics.
The opportunity with Continental Logistics, has given Mr. Clark the ability to utilize the functional knowledge of asset based carriers to improve the relationships with current carriers and develop new relationships with new carriers whose service offering matches the quality required to handle shipments from Continental's customers. "Our strategic direction is focused on building relationships with our vendors and customers through collaboration, transparency and complete transportation management solutions in the market areas we understand. In differentiating ourselves through compliance execution we aim to aid our customers in expanding their own business relationships and in turn grow our own along with them," says Clark.
The office location will remain at 180 Raritan Center Parkway, Edison, NJ 08837, however the suite number has changed from Suite 203 to Suite 205.  "This expansion is personally very exciting but more importantly reflects the cumulative efforts of the Continental Logistics, Tyler Distribution and the Port Jersey team. This new office not only positions Continental Logistics for continued growth but also demonstrates our commitment to a welcoming environment for our employees, vendors and customers long term," adds Clark.
For more information you can download the new Continental Logistics brochure.