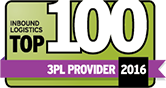 Port Jersey Logistics (www.portjersey.com) is pleased to announce this tremendous achievement! They have been selected as one of the Inbound Logistics Top 100 Third-Party Logistics Providers for 2016! Several hundred companies submitted applications, and Port Jersey is honored to have been chosen among the top performers within the industry.
Per Rob Russo, President and CEO of Port Jersey Logistics, "We are delighted to share this achievement with our team.  Our members dedicate themselves every day to maintain quality and success in all aspects of our business. We want to thank Inbound Logistics and our customers for their continued partnership with our company!"
Felecia Stratton, editor of Inbound Logistics www.inboundlogistics.com  commented, "Port Jersey continues to provide the logistics, transportation, and supply chain solutions Inbound Logistics readers need to achieve the visibility and control that drives successful supply chains. Port Jersey was selected as a 2016 Top 100 3PL Provider (http://www.inboundlogistics.com/cms/planner/2016/port-jersey-logistics%20/) because it is flexible and responsive, anticipating customers' evolving needs with innovative solutions empowering logistics and supply chain excellence."
For six decades now, Port Jersey has been offering supply chain services to meet the warehousing and distribution needs of their individual customers. At Port Jersey Logistics, their goal is to continue to develop new logistic solutions for their clients' unique products including value added options such as shrink wrapping, ink jet printing, labeling and ticketing, product return services and many more. Warehousing and distribution solutions such as these, as well as their numerous facilities along with their valuable certifications, have gained Port Jersey a continued reputation of reliability and professionalism.
Port Jersey Logistics prides itself on reliable and responsive third-party Logistics (3PL) services.  They practice a comprehensive approach to warehousing and distribution which ensures their client's products will move through the supply chain smoothly and safely. They work by their customer's side to identify specific logistics needs and then tailor customized solutions to meet the most demanding warehousing and transportation projects.  With expansive warehouse space and capacity flexibility, Port Jersey Logistics can meet the requirements of most warehousing and distribution challenges.
According to Rob Russo, "Port Jersey Logistics' expertise in supply chain management means reliable, on-time delivery of your goods from point of origin to final destination.  Our sound strategies result in cost-effective solutions."
Top 100 Selection Methodology:
Inbound Logistics' Top 100 3PL Provider's list serves as a qualitative assessment of service providers that Inbound Logistics feels are best equipped to meet and surpass readers' evolving outsourcing needs. Distilling the Top 100 is never an easy task, and the process becomes increasingly difficult as more 3PLs enter the market and service providers from other functional areas develop value-added logistics capabilities. Each year, Inbound Logistics editors select the best logistics solutions providers by carefully evaluating submitted information, conducting personal interviews and online research, and comparing that data to our readers' burgeoning global supply chain and logistics challenges. IL editors selected this year's class of Top 100 3PLs from a pool of nearly 300 companies. The service providers we selected are companies that, in the opinion of IL editors, offer the diverse operational capabilities and experience to meet readers' unique supply chain and logistics needs.
About Inbound Logistics:
Inbound Logistics the leading trade magazine targeted toward business logistics and supply chain managers. The magazine's editorial mission is to help companies of all sizes better manage corporate resources by speeding and reducing inventory and supporting infrastructure, and better matching demand signals to supply lines. More information is available at www.inboundlogistics.com.
 About Port Jersey:
Port Jersey Logistics offers these supply chain solutions via Tyler Distribution and Continental Logistics. Tyler Distribution is the warehousing division with several locations in NJ and all of the facilities hold extensive food-grade certifications. More information about the warehouses can be found at www.tylerdistribution.com.  With a strong focus on unique markets such as consumer-packed goods, specialty foods, food ingredients as well as personal health and beauty products, Continental Logistics provides complete transportation management solutions. More details about Continental Logistics are available at www.continentallogistics.com. For more info about our corporate headquarters, please visit www.portjersey.com. Port Jersey can be reached at 800-355-1009.