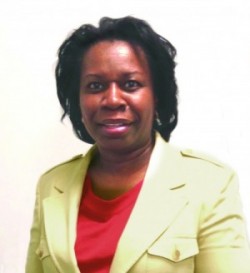 Cranbury, NJ – Port Jersey Logistics (PJL), a leading third-party (3PL) logistics service provider, has hired financial planning and analysis specialist Leila Davis as its newest Controller. In this role, Ms. Davis will oversee a wide variety of finance-related responsibilities for PJL, including accounting, reporting, payroll, credit and collections, budget projections and financial forecasting.
Ms. Davis also will be involved in recognizing and monitoring key performance indicators, using this data to form strategic financial plans as well as build info points that ensure high-level executive insight and preparedness. In total, Ms. Davis will be viewed as a value-adding resource charged with identifying and implementing opportunities for finance-related improvements.
Ms. Davis brings more than 20 years of finance management to Port Jersey Logistics. Most recently, she enjoyed a seven-year tenure at International Vitamin Corporation of Freehold, NJ, where her final position held was Corporate Controller. Prior to that, Ms. Davis served as Director of Business & Operations for Ascend Media, as well as Director of Financial Planning & Analysis at L'Oreal USA.
"Leila has an accomplished track record for maintaining high levels of financial efficiencies throughout her upwardly mobile career," said Robert Russo, President of Port Jersey Logistics. "She will be an asset to Port Jersey Logistics as we continue to modernize, innovate and explore new partnerships and opportunities."
Ms. Davis earned a degree in Business Administration & Finance from Syracuse University, as well as a dual Masters in Management Accounting and Strategic Management from Rutgers. She is a resident of Columbus, NJ.
# # #
 About Port Jersey Logistics
Port Jersey Logistics offers six decades of experience with state-of-the-art systems and facilities to meet a broad range of logistics requirements. It is equipped to handle a wide-ranging spectrum of products including grocery, specialty foods, alcoholic beverages, health and personal care products, electronics, textiles, ingredients and raw materials.
Port Jersey locations are certified food-grade facilities, AIB audited and Organic Certified, as well as FDA registered. Each facility is also licensed by the NJ Division of Alcoholic Beverage Control. As a complete provider, Port Jersey Logistics also offers many Value Added Services such as freight consolidation, product packaging, repacking, shrink wrapping, labeling and ticketing, product return services, creation of point-of-purchase displays, container drayage, freight management and fulfillment services.
Port Jersey Logistics has facilities conveniently located throughout New Jersey and the flexibility to operate almost anywhere. For more information, visit www.portjersey.com or call 609-495-1300.