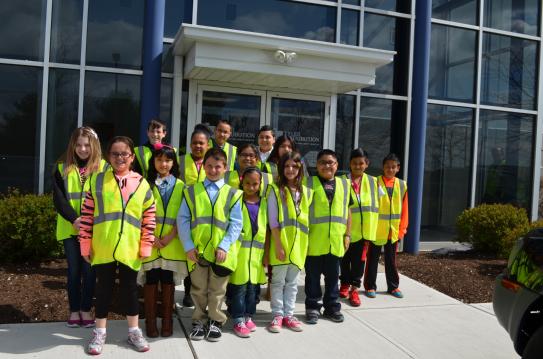 On Thursday, April 23, 2015 Port Jersey Logistics hosted it's second annual Take Our Daughters and Sons to Work Day.  Attendees this year included, 15 children, ages 8 to 12.    Human Resource Manager, Kathy Lanzetta organized a fun-filled day loaded with age-appropriate educational activities, prizes and refreshments.
This year's program began with a company overview outlining company history, services offered and an explanation of what the children would see during their time at Port Jersey Logistics' new Tyler Distribution Centers, Inc flagship building, provided by Erik Holck, Director of Business Development and Larry Rossi, Receiving Manager.  Next on the agenda was Kathy Lanzetta, Human Resources Manager, explaining the functions that the Human Resource department provides and a "resume" building activity.  This was followed by an interactive customer service exercise provided by the facility's Customer Service Manager, Dawn Slocum, where everyone was able to experience what it's like to field calls from customers and take orders.
This was then followed by, a tour of the new 442,000 square foot flagship building provided by Port Jersey's Vice-President of Operations, Frank Dempster and Receiving Manager, Larry Rossi.  David Platt, Facility Manager and Bill Yuengel, Assistant Facility Manager, then explained the operational side of processing orders including picking and packing sample small parcel shipments.
After lunch, the group learned more about Port Jersey Logistics' Value Added Service offering as they constructed and packed in-aisle shipper displays, lead by Value Added Service Coordinator, Tarek Constantine.  Gary Murray, Director of Operations, hosted an "Ask an Adult" discussion where the children were able to ask questions about career paths, operations and other general questions.
Safety was the next topic to be covered, as the children learned about the safety policies and procedures.  This concluded with each child making a safety poster outlining what they learned about safety and why creating a safety culture is so important to Port Jersey. Each child also made their parents a special frame filled with photos taken throughout the day and wrote thank you cards to their parents for all the hard work they put in at Port Jersey.  With the 2nd Annual Take Our Daughters and Sons to Work Day being another success, Port Jersey plans to do it again next year!
– Take Our Daughters and Sons to Work Day, a national, public educational program where parents are encouraged to bring their children to their place of employment.  It helps children connect what they learn at school with the actual working world and allows them to see mom or dad "in action."  This extremely popular program was started in 1993 by feminist activist Gloria Steinem and the Ms. Foundation for Women to build young girls' self-esteem and help them envision themselves in a career.  In 2003, the program was expanded to include boys.  It occurs each year on the fourth Thursday of April in the U.S. and Canada.