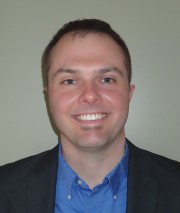 Monroe Township, NJ – Port Jersey Logistics (PJL), a leading third party logistics service provider, has promoted Erik Holck to Director of Business Development. Mr. Holck will be located in PJL's new facility in Cranbury, NJ, a 442,000-square-foot, high volume, multi-shift food grade warehousing space that became its new corporate headquarters in December 2014.
In his new role, Mr. Holck will focus on strategy development and execution while continuing to oversee business development activities, a responsibility he has performed since 2010 when he was appointed Business Development Manager.
In his previous role, Mr. Holck oversaw business development activities, identified areas for organizational growth and future partnerships, and helped develop new corporate service offerings. Prior to joining the Port Jersey team, he spent several years with another 3PL serving the Northeast market, where he was hired as part of their newly created sales department.
"Strategy and business development are critical functions at Port Jersey Logistics," said Robert Russo, President of Port Jersey Logistics, "and Erik Holck has proven that he understands the direction in which we want to steer PJL. Since joining the company, Erik has been instrumental in attracting and acquiring new customers, and we are confident he will use his expanded purview to continue moving us forward."
Mr. Holck has been involved with a variety of industry associations, including the Council of Supply Chain Management Professionals, where he was a board member and moderator for official roundtable panels in both New Jersey and New York City; and the International Warehouse Logistics Association, where he has spoken at several educational events relating to sales, marketing and cost/rate development.
Mr. Holck is certified by the IWLA as a Certified Warehouse Logistics Professional (CWLP) and holds a BS in Business Management & Leadership from Rider University.
# # #
About Port Jersey Logistics
Port Jersey Logistics offers six decades of experience with state-of-the-art systems and facilities to meet a broad range of logistics requirements. It is equipped to handle a wide-ranging spectrum of products including grocery, specialty foods, alcoholic beverages, health and personal care products, electronics, textiles, ingredients and raw materials.
Port Jersey locations are certified food-grade facilities, AIB audited and Organic Certified, as well as FDA registered. Each facility is also licensed by the NJ Division of Alcoholic Beverage Control. As a complete provider, Port Jersey Logistics also offers many Value Added Services such as freight consolidation, product packaging, repacking, shrink wrapping, labeling and ticketing, product return services, creation of point-of-purchase displays, container drayage, freight management and fulfillment services.
Port Jersey Logistics has facilities conveniently located throughout New Jersey and the flexibility to operate almost anywhere. For more information, visit www.portjersey.com or call 609-495-1300.