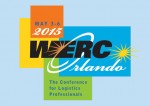 The 38th Annual WERC Conference (Warehousing Education and Research Council) took place this week on Sunday March 3rd through Wednesday March 6th.  Manufacturers, Third Party Logistics providers and vendors gathered in Orlando, FL for this conference.
Nearly 700 professionals in the logistics industry took part in more than 80 educational seminars, several peer sharing discussions and facility tours.  The purpose of these events were to highlight industry best practices and share emerging trends that significantly impact warehouse and distribution center operations.
Topics included; JIT (Just-In-Time) warehouse operations, how 3PL's develop pricing, Omni-channel supply chains, driver hours of service, continuous improvement, understanding metrics, understanding productivity measures, lean warehousing, maximizing 3PL relationships, forecasting, material handling equipment utilization and employee recruitment and retention.
For anyone looking to better understand warehousing operations, the benefits of outsourcing and improve upon their current distribution center operations, this event is a must.
-WERC (Warehousing Education and Research Council) – Founded in 1977, WERC was formed by distribution professionals in search of educational, research and networking opportunities in the field of warehousing.  The goal continues to be focused on educating today's warehousing and distribution professionals.  For more information you can visit the WERC website at www.werc.org.