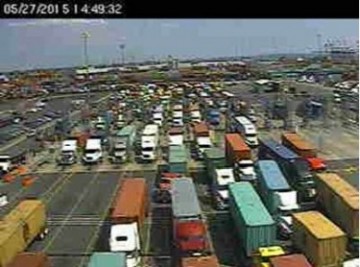 Everyone is well aware of the issues that faced the West Coast ports a couple months back.  Most importers were at a standstill while the IWLU negotiations were taking place, forcing ships into a holding pattern off the coast of California.  Port Congestion and work slowdowns made it virtually impossible to get containers from the Port Terminals and resulted in excessive demurrage charges and congestion surcharges being put into place by local drayage providers.
Many importers who relied on the West Coast ports either enacted contingency plans, restructured their import model to ensure that containers were evenly distributed throughout the US ports or simply moved volume to other US ports.
The NY & NJ port terminals have been feeling these affects since importers began diverting cargo to the east coast ports.  With volumes already higher than last year, the ever present issue of chassis shortages and fewer drivers willing to deal with the lines to get into the port terminals, congestion is now something facing our port on a daily basis.
There are two main issues the drayage providers face; waiting lines (or "queues") to get into a port terminal which can be up to 2.5 miles long and having no chassis available from the intermodal equipment providers responsible for providing chassis for the ocean containers.
The Associate of Bi-State Motor Carriers is a carrier operated group which provides a forum for drayage operators to voice their concerns as a collective group.  They have been actively providing updates to the entire drayage community regarding the wait lines and chassis issues.  The Bi-State is actively involved with the Port Authority of NY & NJ (PANYNJ) to try and resolve the congestion issues facing the NY & NJ port terminals.