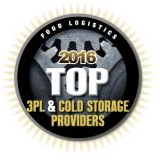 Cranbury, NJ (October 31, 2016) – Port Jersey Logistics (www.portjersey.com) is pleased to announce yet another incredible achievement! They have been selected as one of the Food Logistics' Top 3PL & Cold Storage Providers for 2016 http://www.foodlogistics.com/article/12236070/food-logistics-2016-top-3pl-cold-storage-providers)!
Per Rob Russo, President and CEO of Port Jersey Logistics "As a long time provider of logistics services to the food industry, we are honored to be recognized by Food Logistics Magazine. The food industry has been an integral part of our business since our founding in 1954, and this timely acknowledgement coincides with some new investments in our team, technology and services".
Food Logistics is the only publication exclusively dedicated to covering the movement of food product through the global supply chain.  "The global supply food chain is responding to new challenges associated with food safety regulations along with changing consumer demands for more fresh, healthy and locally-sourced options," noted Lara L. Sowinski, editorial director, Food Logistics and Supply & Demand Chain Executive.  "The companies on Food Logistics' 2016 Top 3PL & Cold Storage Providers list are among those in our industry who are expanding their capabilities and expertise to better support the complexities of today's global food supply chain."
"Port Jersey is very honored once again to be named to the Food Logistics' Top 3PL & Cold Storage Provider List.  We have been pleased to be named one of their top providers since 2009! With a significant focus on providing logistics solutions to the food vertical, being recognized for our excellence in servicing the food industry is something we're extremely proud of," stated Erik Holck, Director of Business Development for Port Jersey Logistics.
Holck went on to say that "Over the past several years we've made major investments in our temperature controlled service offering and the results have benefited both our customers and our organization.  Our plan is to continue the focus of further improving our temperature controlled logistics solutions and expanding our presence in this market."
Port Jersey offers services to meet the warehousing and distribution needs of their individual customers, and the food industry is one of their specialties. At Port Jersey Logistics, they strive to keep up with the latest technology and best practices to transport food products to its destination on time. With six decades of experience, Port Jersey is committed to a high level of food safety for everything from the food ingredients they ship to  the temperature sensitive specialty food products. By investing in the latest temperature monitoring technologies, transportation management systems and warehouse management systems they have gained a reputation of reliability with their customers.
Port Jersey follows a comprehensive approach to warehousing and distribution to make sure client's products move through the supply chain smoothly and safely. They continually work with their customer's to identify specific logistics needs and then tailor customized solutions to meet the most demanding warehousing and transportation projects, including those who need a temperature controlled solution.  With expansive warehouse space and capacity flexibility, Port Jersey Logistics can meet the requirements of most warehousing and distribution challenges.
About Food Logistics:
Food Logistics is the only magazine whose publications are exclusively dedicated to covering the movement of products through the food supply chain. They write about news, trends in the business and best practices that will help grocery and foodservice manufacturers and distributors make better business decisions. They focus on various subjects involving the food supply chain including cold chain, sustainability, transportation, third party logistics and more. Companies on this year's 2016 Top 3PL & Cold Storage Providers list are profiled in the August 2016 issue of Food Logistics, as well as online at www.foodlogistics.com.
 About Port Jersey:
Port Jersey Logistics offers these supply chain solutions via Tyler Distribution and Continental Logistics. Tyler Distribution is the warehousing division with several locations in NJ and all of the facilities hold extensive food-grade certifications. More information about the warehouses can be found at www.tylerdistribution.com.  With a strong focus on unique markets such as consumer-packed goods, specialty foods, food ingredients as well as personal health and beauty products, Continental Logistics provides complete transportation management solutions. More details about Continental Logistics are available at www.continentallogistics.com. For more info about our corporate headquarters, please visit www.portjersey.com. Port Jersey can be reached at 800-355-1009.