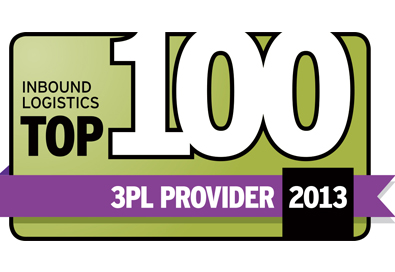 (Monroe Township, NJ) – Port Jersey Logistics, a leading public warehousing and distribution company, has once again been included as one of the "Top 100 Third-Party Providers" by Inbound Logistics magazine.
The honor recognizes Port Jersey Logistics' facilities, suite of supply chain services and customer care as among the logistics industry's finest. PJL's services include freight consolidation, product packaging, repacking, heat-shrink wrapping, labeling and ticketing, product return services, creation of point-of-purchase displays, container drayage, freight management and fulfillment services.
"The repeated recognition from the knowledgeable industry experts at Inbound Logistics is truly an honor," said Robert Russo, President of Port Jersey Logistics. "This is an accomplishment that helps validate our efforts as we continue to streamline existing services as well as introduce new ones."
Each year, Inbound Logistics editors select the best logistics solutions providers by evaluating submitted information, conducting personal interviews and research, and comparing data to its readers' burgeoning global supply chain and logistics challenges. Editors selected this year's class of Top 100 3PLs from a pool of over 300 companies. The service providers ultimately selected are companies that offer the most diverse operational capabilities and experience to meet readers' unique supply chain and logistics needs.
According to Felecia Stratton, Editor of Inbound Logistics: "World class logistics performance is crucial for companies of all sizes – from Fortune 500 to SMBs. Given the scope and scale of that challenge, IL editors recognize that Port Jersey Logistics provides the kinds of solutions that companies large and small rely upon to solve the tactical logistics issues critical to serving customers better, faster, and more efficiently."
About Inbound Logistics Inbound Logistics the leading trade magazine targeted toward business logistics and supply chain managers. The magazine's editorial mission is to help companies of all sizes better manage corporate resources by speeding and reducing inventory and supporting infrastructure, and better matching demand signals to supply lines. More information is available at www.inboundlogistics.com.