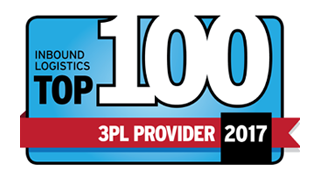 Port Jersey Logistics is excited to announce that they were once again selected as one of the Inbound Logistics Top 100 Third-Party Logistics Providers for 2017! Port Jersey is privileged to have been chosen out of thousands of other companies to be among the top performers within the industry.
Felecia Stratton, editor of Inbound Logistics www.inboundlogistics.com commented, "When choosing the 2017 Top 100 3PL Providers, Inbound Logistics editors looked for providers demonstrating excellence in optimizing transportation and logistics operations, as well as transformative solutions that drive integration across internal and external business processes. Port Jersey Logistics was selected because its solutions solve specific logistics challenges and improve processes, and create a ripple effect of efficiencies across the entire value chain. Inbound Logistics is proud to honor Port Jersey Logistics for innovative solutions empowering logistics and supply chain excellence in 2017."
Per Rob Russo, President and CEO of Port Jersey Logistics, "We are delighted to share this achievement with our team. Our employees dedicate themselves every day to maintaining quality and driving success in all aspects of our business. We work hard to consistently improve our services in a competitive industry to always bring our customers the service they deserve. We want to thank Inbound Logistics and our customers for their continued partnership and once again selecting Port Jersey Logistics a top third party logistics provider!"
Port Jersey has a long history, dating back to 1954, of developing logistic solutions to continue to meet the needs of their growing clientele. With equipment and experience to handle a wide array of products including consumer-packaged goods, specialty foods, health and professional care products and alcoholic beverages, Port Jersey has built a reputation of reliability and professionalism.
Port Jersey plans to continue to approach their business with the goal of assisting their customers in delivering every order on time, complete, damage free, while following their customers' compliance standards. In order to achieve this goal, Port Jersey approaches each client by looking at their unique needs before making a warehousing and or transportation plan and utilizes their industry knowledge, systems, processes and innovation to achieve success. Using this approach assures that the company meets customer and business standards and continues to be recognized as a leading third party logistics (3PL) company in the industry.
Top 100 Selection Methodology:
Inbound Logistics' Top 100 3PL Provider's list serves as a qualitative assessment of service providers that Inbound Logistics feels are best equipped to meet and surpass readers' evolving outsourcing needs. Distilling the Top 100 is never an easy task, and the process becomes increasingly difficult as more 3PLs enter the market and service providers from other functional areas develop value-added logistics capabilities. Each year, Inbound Logistics editors select the best logistics solutions providers by carefully evaluating submitted information, conducting personal interviews and online research, and comparing that data to our readers' burgeoning global supply chain and logistics challenges. IL editors selected this year's class of Top 100 3PLs from a pool of nearly 300 companies. The service providers we selected are companies that, in the opinion of IL editors, offer the diverse operational capabilities and experience to meet readers' unique supply chain and logistics needs.