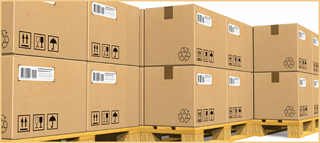 Your consumer packaging is eye-catching, but what happens when your shipper carton is not up to par?
Proper packaging is essential to avoiding product damages throughout the journey from manufacturer to consumer. While many companies focus on the outside of packaging and the visual appeal to the customer, the carton itself is an afterthought. Unfortunately, packaging issues can end up leading to major supply chain issues down the road, delaying products from reaching consumers. Choosing the proper outer carton packaging for your products will save you time, money and frustration while also opening up new possibilities for your logistics strategy, such as:
Container/trailer cube utilization
Proper packaging will allow you to load inbound shipments without pallets. The space freed-up by the lack of pallets will enable you to fit more cases on a container or trailer by either floor-loading or slip-sheeting. You also eliminate paying for shipping pallets when you could be shipping more product instead!
Reduced damage in transit
With the right packaging, your products will have increased stability and greater damage resistance from shifting during inbound and outbound transportation. This is especially important with outbound transportation since your customers will likely reject damaged product or assess chargebacks.
Ability to bulk stack
Strong packaging will allow your warehouse to bulk stack pallets, which is preferable to racked storage because it utilizes space better and eliminates the cost of racking. The less space your pallets occupy, the less you'll spend on warehousing.
No case crushing in the warehouse
The better your packaging is, the more cases you can fit on a pallet without the bottom layer cases showing signs of crushing. While in inventory, products can be handled multiple time and a stronger case eliminates chances for crushing.
Ready to ship parcel packages
If properly packed, your product can be shipped direct to consumers without a need for repacking, greatly reducing the cost of parcel shipments.As a public warehouse, we at Tyler Distribution Centers Inc. often see the effects of bad packaging before our customers do. As your eyes, ears and hands, it's incredibly important to guide our current and future customers through our past experiences. If bad packaging is causing issues within your supply chain, we can recommend corrugated box manufacturers for your next production run or we can repack your current inventory into stronger cartons through our value-added services department.

Contact us

today to discuss your options.