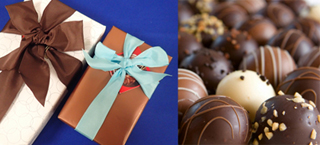 Customer:
European Chocolate Manufacturer
Challenge:
Unexpected packaging issues and quality assurance
verification with a short lead time
Success:
Port Jersey comprehensive customer solutions: Tyler Distribution Rework via in-house Value-Added Services, Continental Logistics Compliance for Transportation and Delivery, NO CHARGEBACKS!!!
What do you do when you just received your first batch of Purchase Orders from several USA retailers – and you aren't sure how to get your products into this country? You call Port Jersey!
Port Jersey Logistics was recently honored to assist a new client in bringing their products to market – against tight deadlines and very specific retailer packaging requirements. We were engaged to handle a project that needed a full-service solution, utilizing transportation, warehousing and value-added services. Our new client, a European chocolate manufacturer, was developing their initial strategy to enter the US market.
They received purchase orders from three large retailers, for two branded items and one private label item. With the Holiday season quickly approaching and the client understanding the importance of first impressions when entering a new market, they could not afford any delays or set-backs. Determined to make a strong first impression in unfamiliar territory, the client contacted Port Jersey Logistics for guidance.
The original plan included receiving 7 refrigerated ocean containers of product, picking orders for each retailer by Distribution Center, labeling all cases with retailer required compliance labels for all 3 retailers and reworking 1 of the SKU's to match the retailer specification. As the product was crossing the Atlantic Ocean, traveling from the Port of Antwerp to the Port of New York and New Jersey, the client was notified by their manufacturing team of packaging issues with two SKUs.
Together, we developed a full-service solution to receive the product into Tyler Distribution, the warehousing division of Port Jersey Logistics and remediate the production errors through our Value-Added Service Department. We immediately connected the client with one of our partner corrugate manufacturers to produce the missing component for one of the SKUs. The corrugate manufacturer rushed the job to ensure we would receive the proper materials to repack the product and get it delivered before the required delivery date. The second SKU reworked by Tyler Distribution, required quality assurance inspection of the packaging and a new, high adhesive security seal be applied to each retail unit.
Continental Logistics, the transportation management division of Port Jersey Logistics, moved quickly to pick up the containers from the Port and get them delivered to Tyler Distribution as soon as possible to begin the rework process. Once received, our Tyler Distribution team immediately began the required repacks on all three item to ensure that product could successfully ship to the three retailers in accordance to their guidelines. On-time delivery of the product was then successfully completed with NO chargebacks due to Continental Logistics focus on "compliance".
Port Jersey Logistics exists to make your job easier. We make sure these types of problems are solved "behind the scenes" and are invisible to retailers and our consumers. Our relationships with our customers are true long term partnerships. With many of our partnerships lasting well over 20 years, we have proven to our customers that we have their best interests at heart.
If you're considering launching your business in the United States and need a logistics partner that has what it takes to excel in the US Market or are looking for a better solution on how to navigate the ever-changing requirements of US retailers, contact Port Jersey Logistics today.