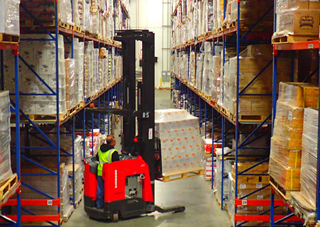 There's a reason that public warehouses exists: the requirements to start and operate your own warehousing operation are intimidating and prohibitive. Not only do you need to find a building and staff, but you also need to learn how to manage the daily operations and have a lot of capital to invest in getting started. Running your own warehouse may give you more control over your daily distribution operations, but at the same time can easily bog you down with day-to-day tasks. This is where a public warehousing provider comes in to save the day. By utilizing a public warehouse, you may lose some level of control (which should be viewed as a positive, trust us) but you'll also gain tremendous efficiencies in other areas, especially if:
You want to spend more time focusing on other business functions: Unless you are a mega-conglomerate with expendable funds and resources, it can be extremely difficult to handle all business functions in-house successfully. Consider that by partnering with a public warehousing provider, you can spend more time on other essential business functions such as sales and product development. Due to the nature of the work, warehousing and distribution takes a huge chunk of time, money and commitment to run effectivity. Not only will you be unloading inbounds, storing pallets, and preparing orders, but you also need to maintain the building and the workforce. Don't know your space requirements or have seasonal spikes? That's where a public warehouse can help. Depending on your product and industry, you also may need obtain and uphold certificates and quality control procedures before you can even get started.
You require various order fulfillment methods to satisfy your customers: A quality public warehouse will have vast knowledge of consignee requirements and varied service offerings to meet their needs. It's more and more common for consignees to have differing order requirements and if they aren't met, you'll be faced with rejected loads and chargebacks. Whether your customers are retailers, distributors or manufacturers, your public warehousing provider will be able to fulfill your order by picking and packing, cross docking, repacking, kitting, labeling and whatever other services are needed to make your customers happy.
You love technology that helps you manage your business: Working with an established public warehouse will grant you access to technology that would otherwise require heavy investment on your part. A Warehouse Management System (WMS) with on-demand reporting for information such as inventory levels and scheduled orders will be available at your fingertips. Electronic Data Interchange (EDI) will allow you to communicate orders with your customers seamlessly, eliminating the need for data-entry and the risk of keystroke errors.
So, why should you consider working with a public warehouse provider? It's a simple as this: we can't all be experts on every subject. Some things are better left to those who have the experience and knowledge to allow for efficiency gains and costs savings. Warehousing and distribution are two of the most tedious, time-consuming and cumbersome parts of running a business, and at Tyler Distribution we're happy to take that burden off your hands. If you're struggling to handle your own distribution or you're working with a public warehousing provider that doesn't provide you with the benefits mentioned above, contact Tyler Distribution today.