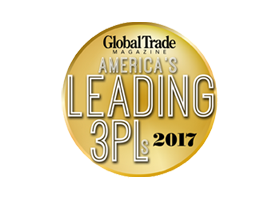 Port Jersey Logistics (www.portjersey.com) has been named by Global Trade Magazine's Special Feature as one of "America's 100 Leading 3PLs for 2017". As a winner in the "Special Services" category, Port Jersey Logistics is proven to be a global supply chain partner of choice!
Global Trade Magazine (www.globaltrademag.com) Global Trade is a media brand focused on domestic and global expansion processes, logistics efficiencies, strategic location, information technology and intelligent banking solutions for U.S. manufacturers that export and their logistics partners.
Erik Holck, Director, Business Development and Quality at Port Jersey Logistics shares "Our direction is to move forward as a global partner for our food, beverage and personal care clients in solving their supply chain challenges. If that means coming up with a customized solution to their unique warehousing, distribution and 3PL needs – then that is what we will do – and we do it well."
In this fifth annual special feature, Global Trade Magazine has chosen the 100 Leading 3PLs in America. Per Steve Lowery of Global Trade Magazine, "It's a measure of the quickly growing/changing/evolving global marketplace that arguably the most critical industry serving it, third party logistic providers (3PLs), continues to grow, change and evolve at a dizzying pace. That evolution has been chronicled over the years in our annual top 3PLs special feature, as we have charted such trends as the increasing emphasis and reliance on technology, the constant march toward transparency and, most recently, the increasing pace of acquisitions and consolidations.
This year, as we pieced together our list of 100 great 3PLs, we were struck by two things: How increasingly global the global marketplace has become and how holistic 3PLs serving that marketplace strive to be."
Port Jersey Logistics was honored to be listed as a Winner for Special Services:
Special Services Category:
Beyond warehousing and transportation, Port Jersey Logistics provides added value by developing solutions tailored to the needs of clients and their markets. Most value-added services offered have been developed over the years based on customer needs and requirements, something that is continually evaluated to stay ahead of customers' demands, which has produced a broad range of options including integrating repacking, secondary packaging and kitting projects, labeling, shipper display assembly, bar coding, labeling and ticketing, ink jet printing and bundling.
You can see the full article here:
http://www.globaltrademag.com/features/americas-100-leading-3pls)