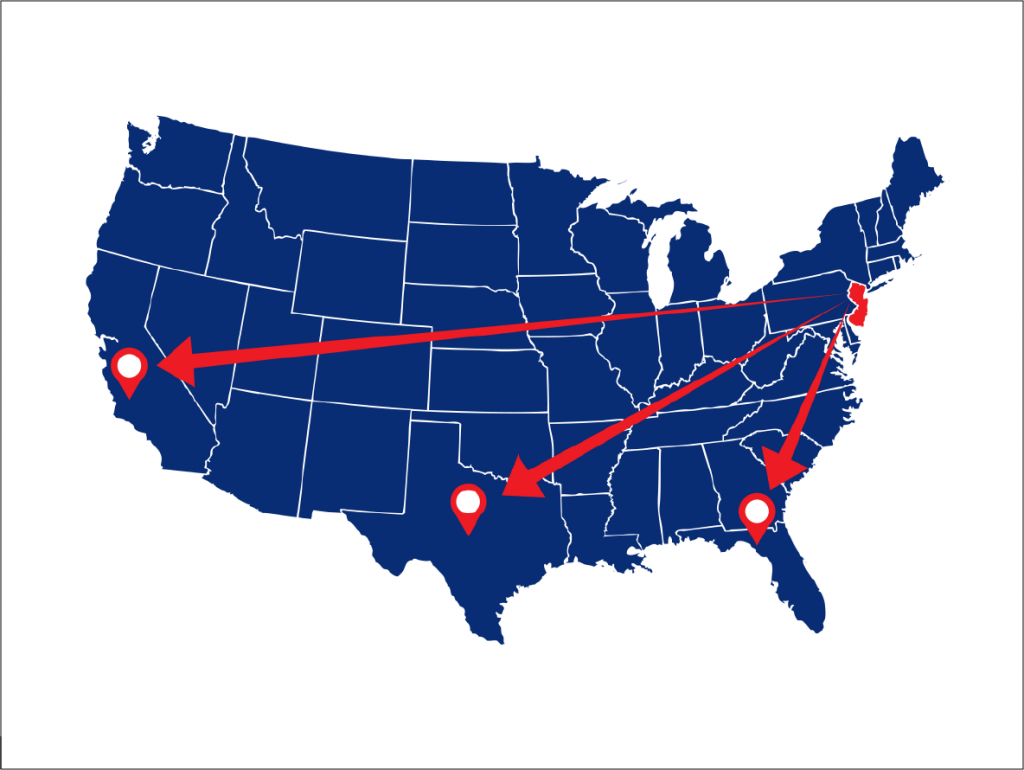 What makes New Jersey so desirable for warehousing?
New Jersey is known for diners, beaches and rock stars, but soon, the Garden State may be best known for warehousing. With Amazon, Wayfair and countless other companies opening fulfillment and distribution centers here, there's no question that New Jersey is becoming the de facto location for warehousing. The rate at which warehouses and distribution centers open will only continue to grow as consumers demand increasingly speedy delivery. With so many geographical locations to choose from throughout the country, why is New Jersey considered one of the most desirable states for warehousing?:
Close to major population centers – New Jersey is within a 24-hour drive to 40% of the total US population. When 130 million US consumers can be reached that quickly, it's hard to argue against having a warehousing facility here. Add in major cities in Eastern Canada, and the geographical advantages of New Jersey are unbeatable. The savings in transportation costs alone can be astronomical, considering that on average companies spend around 4 times more on transportation than warehousing.
Proximity to ports – New Jersey's close proximity to the Port of New York and New Jersey, the third largest in the US, and the Port of Philadelphia, the seventh fastest growing, means that no matter where your warehouse is located in the state, you'll have a convenient outlet for importing and exporting goods, and multiple options to have the containers routed through.
Infrastructure – New Jersey has the major advantage of being sandwiched between New York City, the most populated city in the US, and Philadelphia, the sixth most populated, without experiencing the same level of traffic congestion and space constraints of either city. Operating a warehouse located near Interstate 95, Interstate 80, the Garden State Parkway and the New Jersey Turnpike, ensures that your carriers can pick up and drop off freight efficiently.
Workforce – With over 9 million residents, New Jersey is the most densely populated state in the US. The labor pool ensures that warehouses have the staff to provide consistent service to consumers throughout the country. Since the industry has been well established here for so long, the chances of finding qualified and experienced candidates are higher.
With e-commerce showing no signs of slowing down and the speed at which freight is expected to ship becoming faster, the warehousing and distribution industry will only continue to grow in New Jersey. At Tyler Distribution Centers, our NJ warehousing roots trace back to 1954, so we've had plenty of time to learn about ins and outs of warehousing here. Since you now know the advantages of warehousing in New Jersey, contact us to learn about the advantages of utilizing Tyler Distribution Centers as your warehousing provider.