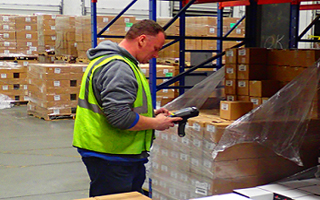 Maintaining inventory accuracy requires efficiency and attention to detail through every step of the warehousing process, especially in a public warehouse and fulfillment center. If your company is struggling to maintain inventory accuracy in a public warehouse, we recommend following these 5 steps:
1. Conduct at least one physical inventory each year – Consistently performing physical inventories is the most effective and precise method for maintaining inventory accuracy. The knowledge of upcoming physical inventories will also help to ensure that your warehouse follows proper procedures throughout the year.
2. Consider requesting cycle counts as an alternative to a full physical inventory – Many auditing firms will accept cycle counts in place of a full inventory if the cycle counting process works through all inventory many times throughout the year. Full physical inventories usually require blackout dates, which disrupts business, making a cycle counting process more attractive.
3. Ensure that you're supplying your warehouse with all item information in advance – Information such as item numbers, Universal Product Codes (UPC), lot code formats, shelf-life, pack sizes, unit sizes, case quantities and pallet layouts are all essential for accurate inventory tracking. Having all this information upfront allows your public warehouse a better chance to catch errors immediately upon receiving the product.
4. Always provide your warehouse with proper documents in advance and request blind receipts – A detailed Advance Shipment Notification is the key to a smooth inbound receipt. For increased accuracy, we recommend requesting a blind receipt which requires the warehouse personnel to receive a load with limited quantity information. The results of the receipt will then be verified against the original ASN by a warehouse supervisor.
5. Consistently pick through an entire layer of product – Proper case picking technique allows for simplified case counting in the future and easy identification of inventory variances during the case pick process.
At Tyler Distribution Centers Inc., following these guidelines has allowed us to maintain 99.9% inventory accuracy and throughout our large and diverse customer-base. If your company is struggling to maintain inventory accuracy, you'd greatly benefit from a conversation with us.