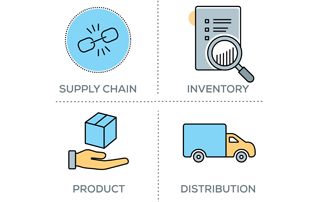 At Tyler Distribution Centers Inc., our smart warehousing management system is designed to be customer friendly and offers functions to ensure that products are stored, rotated and fulfilled properly.
As consumer demand for variety has grown, so have the number of SKUs produced by manufacturers. The demand for new and unique products has required manufacturers to consistently expand their product offerings to stay relevant. Changing consumer preferences have also allowed many smaller manufacturers to enter the market. With orders becoming increasingly complex, many of these manufacturers require the services of a third-party warehouse provider to store inventory and fulfill orders. The key to accurately maintaining inventory and fulfilling complex orders is an effective warehouse management system (WMS), which can greatly simplify the following processes:
1. Receiving: Prior to the arrival of an inbound shipment, the expected receipt is entered the WMS. Once the shipment arrives, the actual contents are verified against the expected receipt to ensure that any discrepancies are investigated and reported back to you before the load is fully received into the warehouse.
2. Inventory Tracking: Pallet and case inventory levels are tracked and updated in real time. You'll be alerted to over-allocated and expiring items, allowing you to confirm that there's enough of the right inventory to meet the demand of the orders.
3. Order Fulfillment: Most warehouse management systems have functionality to ensure the product is properly rotated base on a number of rotation methods, such as: first-in first-out, first expiry date, sequential lot ordering or product production date. In addition to proper rotation, most warehouse management systems limit the product that can be selected for orders, in turn reducing the chance for human error in picking the right product.
4. Trailer Loading: After an order is picked and staged on the warehousing shipping dock, a good WMS will only allow the correct product to be loaded onto the outbound trailer.
5. Reporting: A best in class WMS will provide real time access to orders, inventory and on demand reporting, which allows for greater transparency and collaboration between your 3PL and you.
6. EDI: The simplest way to send orders to a warehouse is by setting up EDI (electronic data interchange) integration with your warehouse partner. This can provide the warehouse with all necessary information for inbound and outbound shipments, quickly relay information back to your system for receipts and shipments, while eliminating the chance for keystroke errors for both parties.
On average, 54% of the cases we ship each year require case picking and we've consistently maintained both inventory and shipment accuracy above 99.9%. If you believe some of your logistics challenges are due to a 3PL provider that doesn't have the systems to support your business, contact us immediately to see how we can help.